How to switch locales in firefox3
From Paldo
(Difference between revisions)
---
Current revision
To switch locales in Firefox3 you have to install followed package:
   sudo upkg-install firefox-translations

After that you can switch locales in firefox using Quick Locale Switcher from the menu Tools. Select your language and wait for the restart of firefox.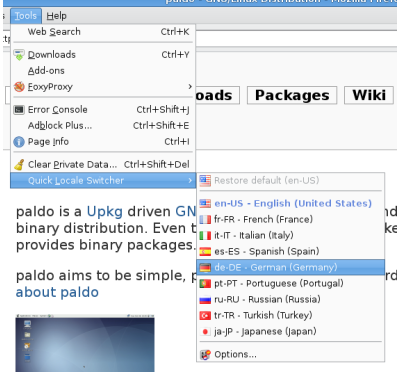 By clicking on Options you can add or remove locales.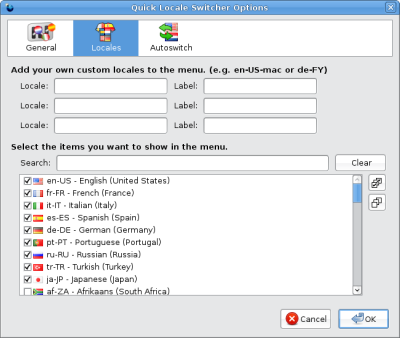 Paldo supports followed locales for firefox3:
af
ar
be
ca
cs
da
de
el
en-GB
en-US
es-AR
es-ES
eu
fi
fr
fy-NL
ga-IE
gu-IN
he
hu
id
it
ja
ka
ko
ku
lt
mk
mn
nb-NO
nl
nn-NO
pa-IN
pl
pt-BR
pt-PT
ro
ru
si
sk
sl
sq
sr
sv-SE
tr
uk
zh-CN
zh-TW