Installation using the LiveCD
From Paldo
(Difference between revisions)
Revision as of 17:07, 5 July 2007 (edit)
Amnon82 (Talk | contribs)

← Previous diff
Revision as of 17:35, 5 July 2007 (edit) (undo)
Amnon82 (Talk | contribs)

Next diff →
Line 1:
Line 1:
This guide is in the beta status. It is based on the installer 0.1.0.
This guide is in the beta status. It is based on the installer 0.1.0.
-
You can also install paldo GNU/Linux using our LiveCD.
+
You can also install paldo GNU/Linux using our LiveCD.
+
 
+
For this download the newest LiveCD from here:
For this download the newest LiveCD from here:
Line 8:
Line 10:
Burn the iso with your favorite burn app like k3b. Reboot your pc and boot from cd.
Burn the iso with your favorite burn app like k3b. Reboot your pc and boot from cd.
+
+
==Booting the CD==
+
You will see this boot screen:
You will see this boot screen:
Line 13:
Line 18:
Choose your language and press enter.
Choose your language and press enter.
+
+
==Starting the installer==
To start the installer click on "Install paldo" on the desktop.
To start the installer click on "Install paldo" on the desktop.
[[Image:Install_paldo_010.png]]
[[Image:Install_paldo_010.png]]
+
+
==Language Selection==
Then you'll see this welcome window:
Then you'll see this welcome window:
Line 23:
Line 32:
Here you can re-choose the language settings if you want. Press next if done.
Here you can re-choose the language settings if you want. Press next if done.
+
+
==Partitioning==
[[Image:Partitioning_010.png]]
[[Image:Partitioning_010.png]]
Line 30:
Line 41:
'''''You have to format your partitions with gparted before pressing next, otherwise you'll get an error!'''''
'''''You have to format your partitions with gparted before pressing next, otherwise you'll get an error!'''''
Press next when done.
Press next when done.
+
+
==Configuration==
[[Image:System_Configuration_010.png]]
[[Image:System_Configuration_010.png]]
Line 39:
Line 52:
Enter your user settings and press next.
Enter your user settings and press next.
+
+
==Installation==
[[Image:Confirm_010.png]]
[[Image:Confirm_010.png]]
---
Revision as of 17:35, 5 July 2007
This guide is in the beta status. It is based on the installer 0.1.0.
You can also install paldo GNU/Linux using our LiveCD.
Download
For this download the newest LiveCD from here:
Burn the iso with your favorite burn app like k3b. Reboot your pc and boot from cd.
Booting the CD
You will see this boot screen: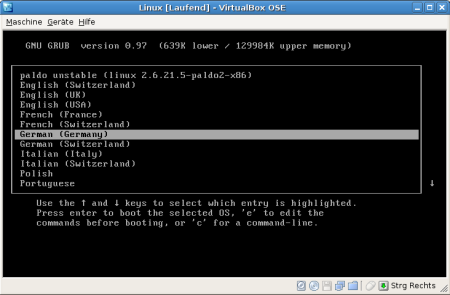 Choose your language and press enter.
Starting the installer
To start the installer click on "Install paldo" on the desktop.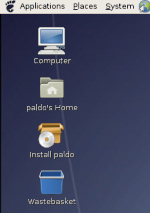 Language Selection
Then you'll see this welcome window: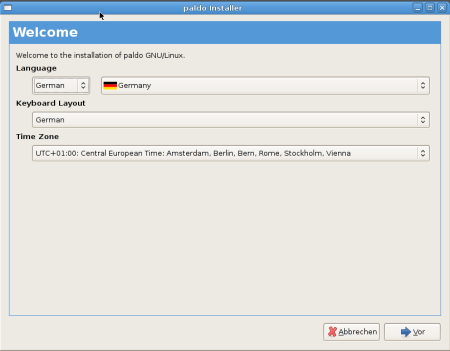 Here you can re-choose the language settings if you want. Press next if done.
Partitioning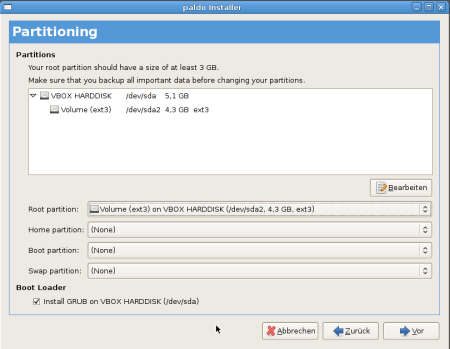 Now we are in the partition window. Choose the partitions you want to use for paldo. Click on "Edit" if you want to change your partitions. Gparted will do the job. You have to format your partitions with gparted before pressing next, otherwise you'll get an error! Press next when done.
Configuration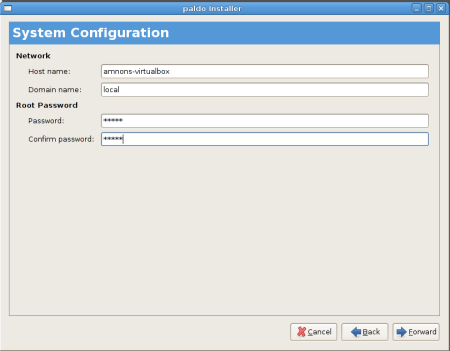 In the System Configuration window you can setup the Network settings and the root password. Press next when done.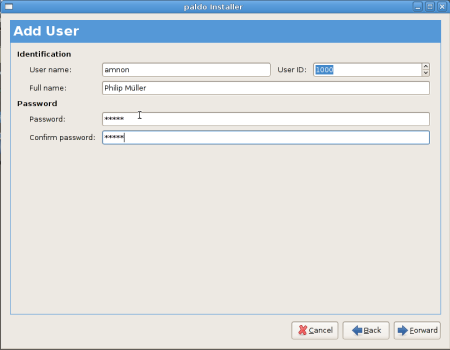 Enter your user settings and press next.
Installation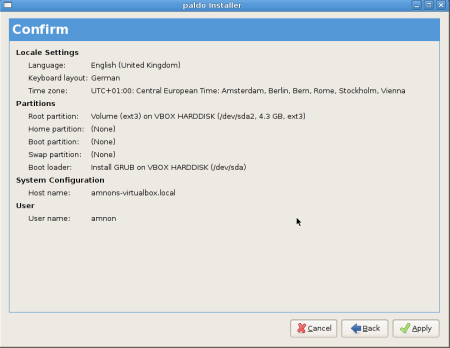 The Confirm window gets displayed. Read it carefully and click next if you want to install paldo this way.
When the installation is done press next.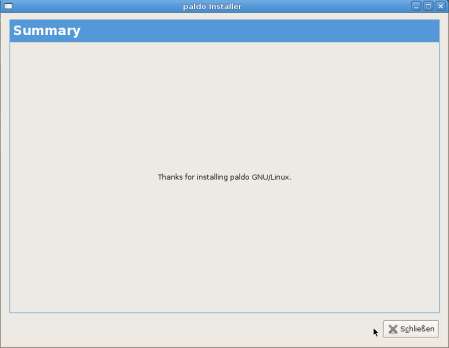 The installation went well. Press finish to close the installer. Now you can reboot your system to enjoy paldo GNU/Linux.